Today we ventured to Hamilton, Indiana to check out Robb Hidden Canyon and we are sure glad that we did! Like the name suggests this is a hidden gem. It's another Acres Land Trust site with land donated by Robert and Phyllis Robb so it would remain undeveloped.
The trail starts with a dirt path on the edge of the woods and then becomes a grassy trail. Eventually you enter the woods and walk amongst Beech and Maple trees. There is also a view of Ball Lake, but it's across the street from the property so no opportunity to get down to it.
After winding around in the woods we came upon the canyon which is quite scenic. The trail traverses the top of the canyon and leads to a steep stairway that goes down into the canyon. The steps are quite steep and not recommended for anyone with stability or mobility issues. There seems to be a stream that runs through the canyon, but on our visit there was little to no water. We walked over the bridge and continued our exploration of the canyon. Eventually the trail returned to the stairs and took us back overlooking the canyon. We retraced our steps back toward the parking lot and found another trail that looped around near the parking lot. The total distance we walked was nearly 2M.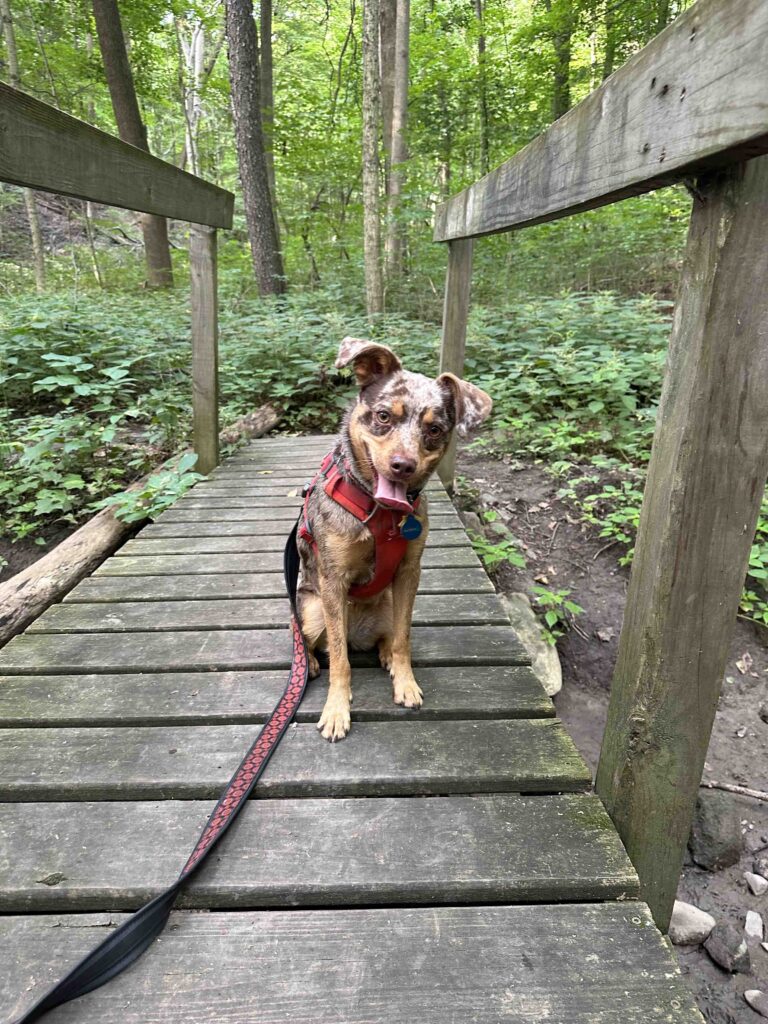 Our Rating
We give Robb Hidden Canyon 3 out of 4 paws up. If the stream in the canyon had been running it would have rated 3.5 out of 4 paws up. It's a beautiful walk in the woods with views of a stream or stream bed and the chance to hike for nearly 2 miles. The only downside for us is the lack of restrooms and the dry stream on this visit. We will definitely return after a rain to see what it's like when the stream is full. I imagine it's quite beautiful in the fall when the leaves are in full bloom.
How do I get there?
From Waterloo take 427 North to Hamilton, Indiana. Near the Phillips 66 gas station turn left onto E. Bellfontaine Road. Continue for about 1.5M and turn left just past Hamilton Storage onto Lane 201 b Ball Lake. After about half a mile veer left to stay on Lane 201 b. Just past the sign for Fish Creek Trail you'll see a gravel parking lot on your left with a white Acres Land Trust sign. Park in the lot and walk toward the gate to enter the property.
For more information check out Acres Land Trust website.