We've had some hot and humid weather this week which has prevented us from going on adventures. Since today was a little cooler and less humid we decided to get out into the woods. We ventured to the Lloyd Bender Memorial Forest in Albion, Indiana which is another Acres Land Trust site.
Lloyd Bender purchased the land in 1924 to protect it from development and donated it to the Acres Land Trust in 1966. He wanted to preserve natural resources and wildlife for future generations to enjoy. And that's just what we did today.
Little did I know when we visited that I am related to Lloyd Bender. It does seem fitting that one of my ancestors loved the outdoors as much as I do and wanted to preserve it. Anyway, Lloyd Bender was my great great uncle. He was the half-brother of my great grandfather on my mom's side. My mom told me that Lloyd was a teacher in Noble County and also farmed the family homestead. My mom believes that the land he donated might have been the family farm and homestead since the river runs through it. She remembers visiting it when she was very young and being cautioned not to get too close to the river. I think this little piece of family history makes this memorial forest pretty special.
Just past the welcome sign at the entrance is a boardwalk over a wetland. On today's visit things were pretty dry, but I imagine in the spring and fall the boardwalk is needed to keep your feet dry. After traversing the boardwalk we came to a grassy trail and then entered the woods. The trail winds around the woods with views of fallen trees, a forest of trees, and the South Branch of the Elkhart River. Sadly, the trail does not get close enough to the river to get down to it. Despite that it's a pretty walk with some inclines and descents. The trail is a simple loop and is about 1.2M.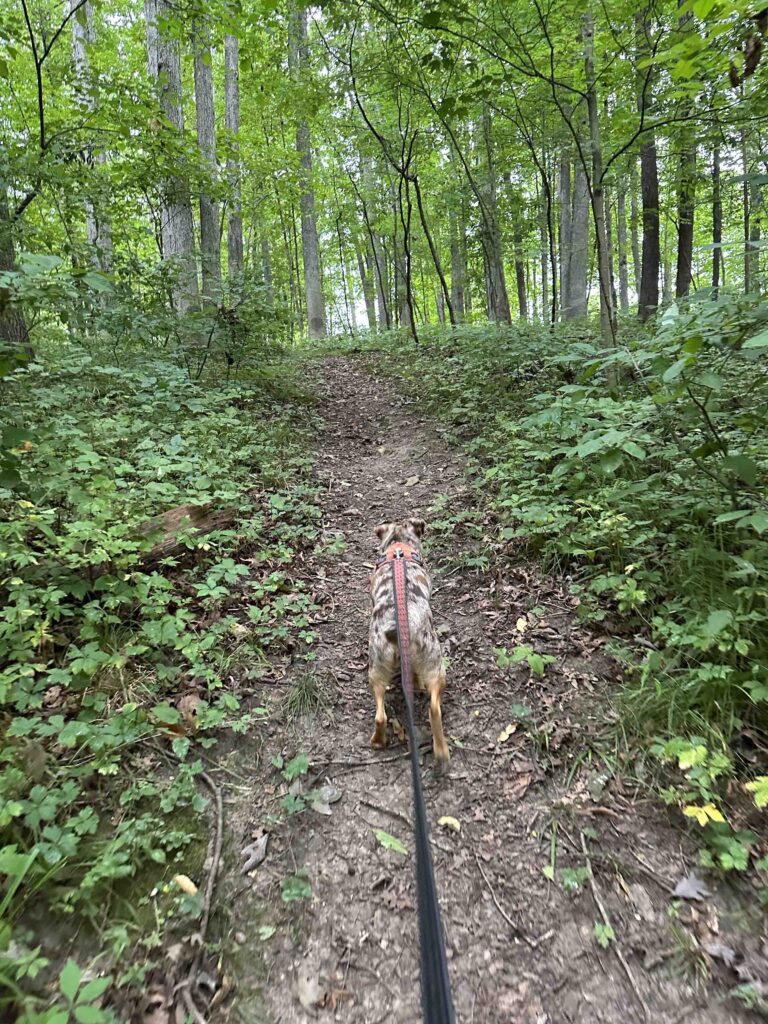 This adventure is not recommended for those with mobility or stability issues. The trail starts with a wood plank boardwalk with some sections that shift as you walk over them. Portions of the trail are narrow with tree roots in some areas. It also has some inclines and descents.
Our Rating
Despite the familial connection we rate the Lloyd Bender Memorial Forest 2.5 out of 4 paws up. It's a nice short hike in the woods, but you can't get down to the river, there are no restrooms, and at least on our visit there were quite a few mosquitos. We enjoyed it, but there are other places we like better that are closer to us. Despite this I likely will return now that I know it was donated by my great great uncle. This is a great place to visit if you live near Albion, IN.
How do I get there?
Take 8 toward and into Albion. In the downtown area turn south onto Orange St./9S. Continue for about half a mile then turn right onto W. River Road. Follow for about 2M until you see the white Acres Land Trust sign on the right. Pull into the drive and park.
For more information check out the Acres Land Trust website.