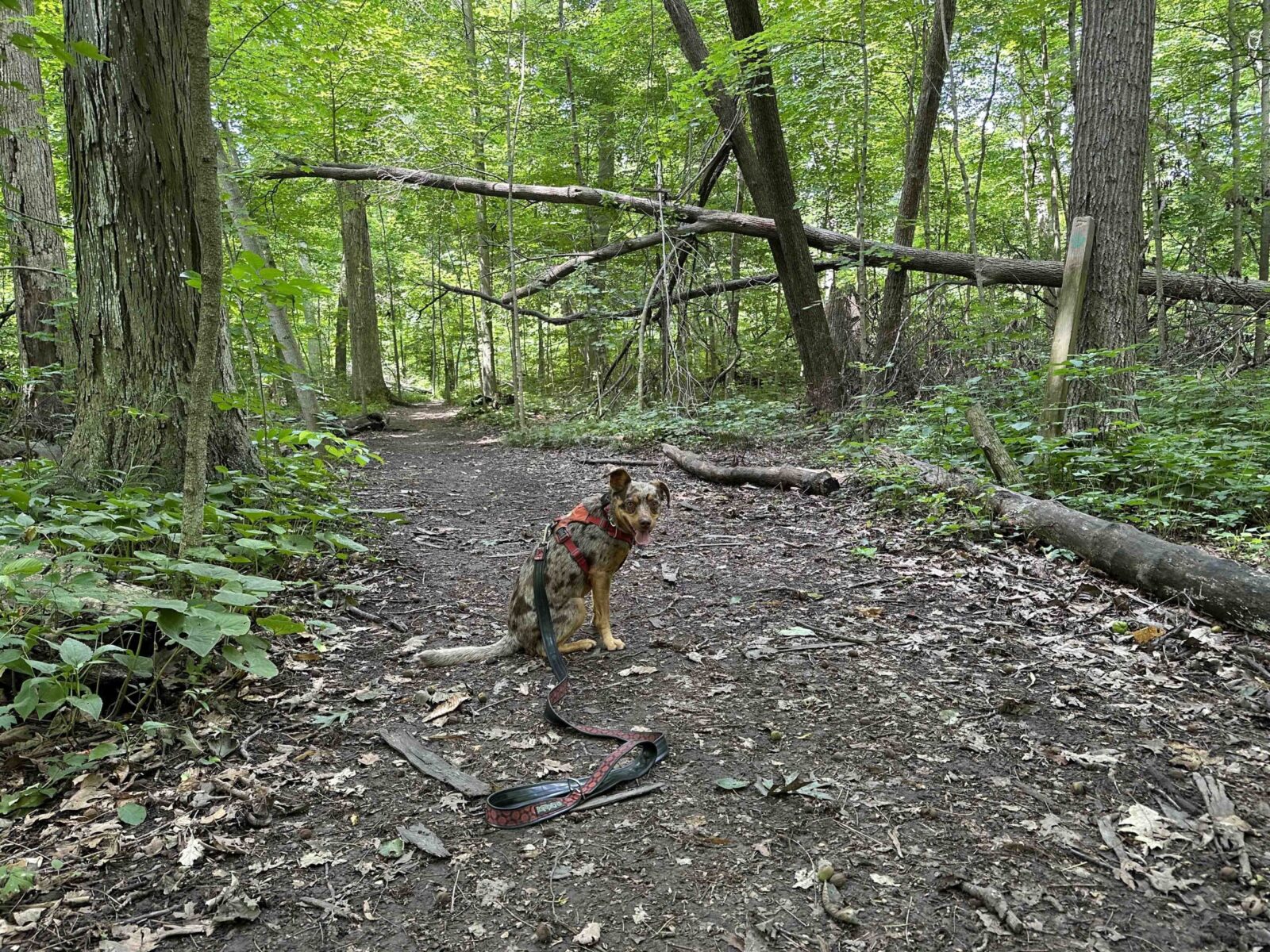 Another beautiful summer day in Northern Indiana so off we went on an adventure. This time we explored Fogwell Forest in Fort Wayne, Indiana. This is another Acres Land Trust location and is perfect for a nice peaceful walk in the woods. There isn't any water, except puddles after a recent rain, but it's a beautiful spot in the woods for a hike.
This property was part of the Fogwell Farm and had been in the family since the 1800's when they settled in Allen County. It was donated to Acres Land Trust who maintains the property and allows the public to visit it.
The start of the hike is a mowed grass path. There are two options to take from the parking lot, both end at the woods, just different sections of it. The rest of the hike is in the woods. It's mostly flat and shady. We saw a lot of downed trees, which was interesting and made us think something caused them to fall. Many of the trees looked like they deteriorated from the inside and then the tree just folded and fell. There were also a lot of trees that fell over and took the roots with them. All of these trees were off the trail so they made for interesting things to observe, but did not hinder the hike.
The trail is a windy dirt path through the woods with roots. Some areas were wet, but it had recently rained. There are wood platforms over several areas that I imagine get water logged at times.
For more information visit Acres Land Trust website.
Our Rating
We rate Fogwell Forest 3 out of 4 paws up. It's a wonderful place to hike in the woods, but there is no water feature. We also prefer to have the entire walk in the woods and this one starts with a mowed grassy trail. And of course, as with all Acres Land Trust sites, there is no restroom. Despite this, it really is a great place to hike especially if you live near Fort Wayne, Indiana. This location is not recommended for those with mobility or stability issues.
How do I get there?
From 69 take exit 299 – Lower Huntington Road and turn left onto Lower Huntington Road. After about half a mile turn left to stay on Lower Huntington Road. Continue for another 1.3 miles and then turn right onto Whippoorwill Drive. Follow it for nearly half a mile and park in the parking lot at the end. The lot has room for about 6 vehicles.