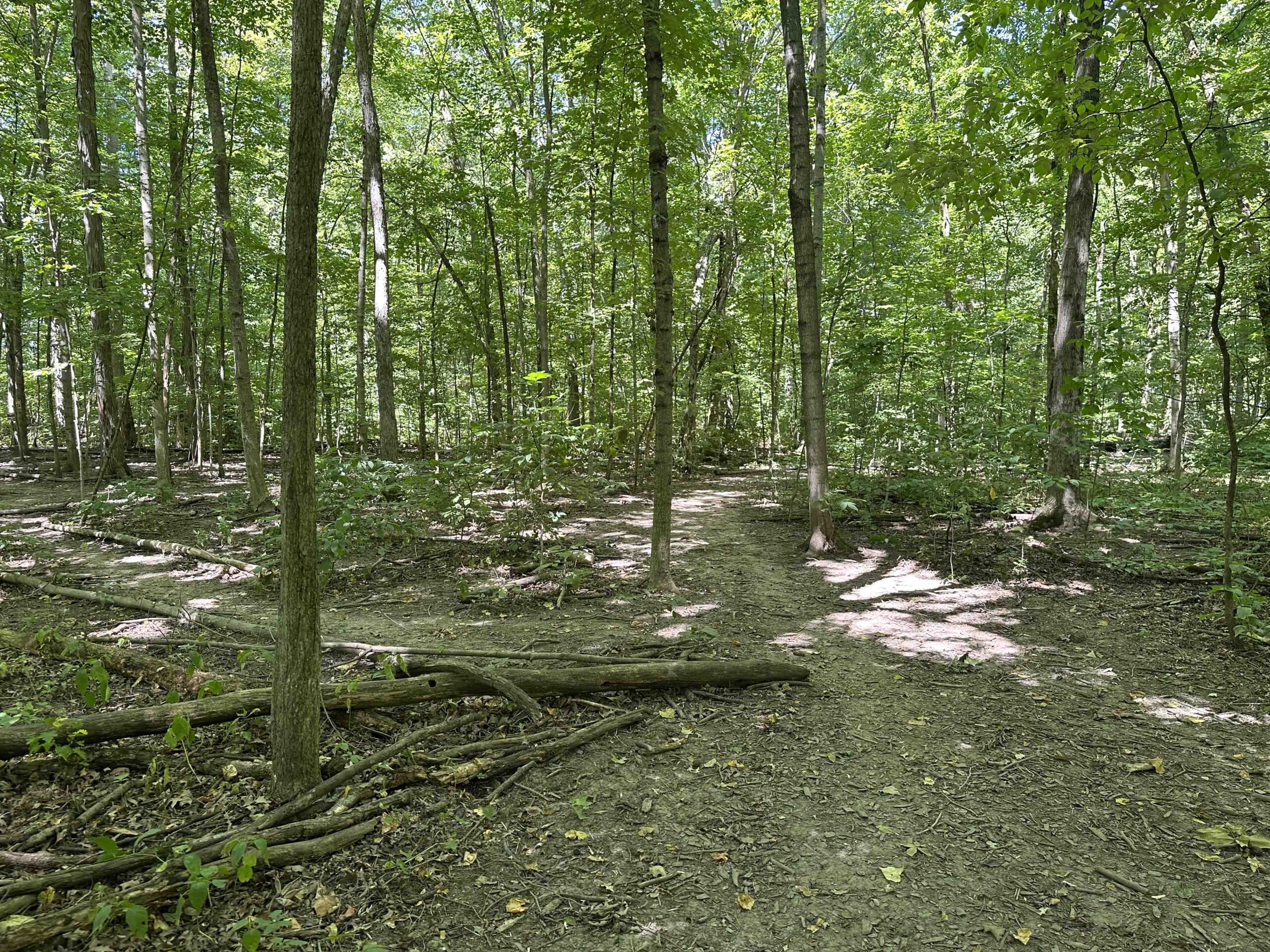 After hearing good things about Fido's Forest we decided it was time to investigate it for ourselves and it did not disappoint. If you aren't familiar with Fido's Forest, it's an appointment only wooded dog park in Fort Wayne. Only the person who reserves it can enter, making it perfect for reactive/fearful dogs. This would have been perfect for Anna and Karlie. You can also reserve it for several dogs for a doggy play date. And it's a great spot to let your dog safely run free in the woods.
The reservation process provides details of how to make things safe for your dog and those who visit prior/after you. You can not enter the parking lot until the time of your reservation. This makes it safe for dogs who are reactive to others. Upon entering the parking lot you immediately see the fence and entry gate. Your reservation comes with a code to allow entry into the forest. Before entering, turn the sign from "Welcome to the Forest" to "Stop – Loose Dog In the Park". Inside the entry is a box with water, toys, and poop bags, however it is suggested you bring your own. A map of the trails hangs on the fence.
Once You Enter
Upon entering the forest you see the trails straight ahead. It was at this point that I let Sunny off her leash. At first she stayed close, but then she realized she could run free. What fun! She explored every square inch of the forest – both using the trails and making her own. We tried to keep an eye on her as we wanted to be able to clean up if she decided to poop. We circled the entire property many, many times taking a variety of routes. Sunny led the way and we tried to keep up.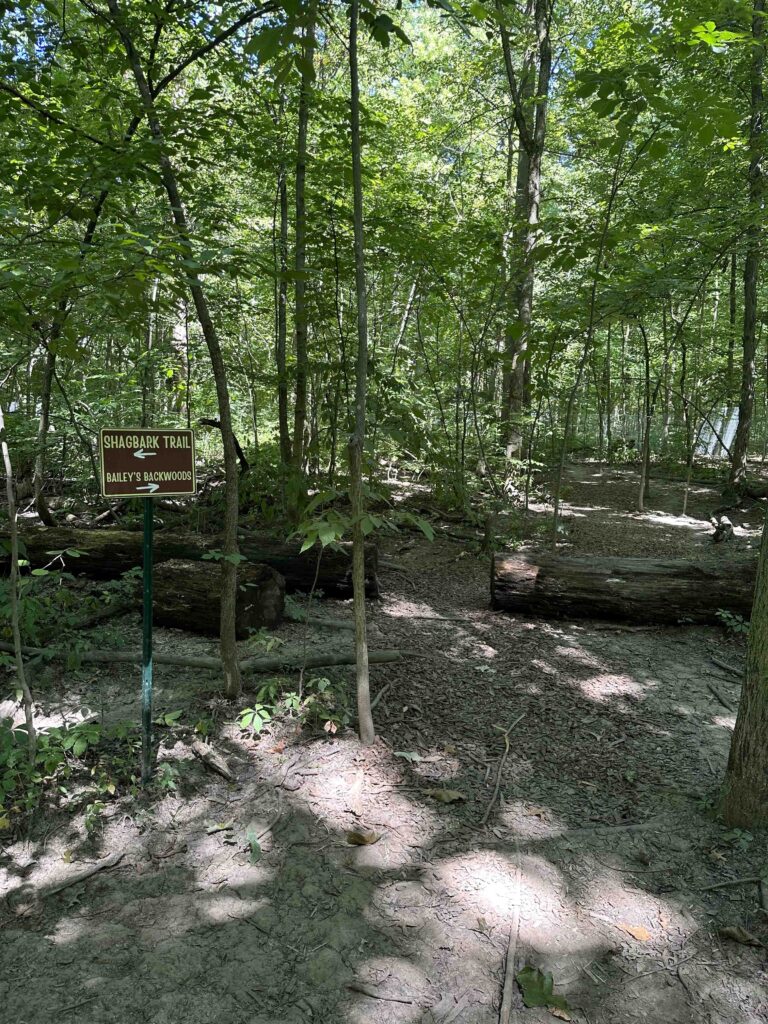 The entire forest is fenced and the one section that overlooks another property has a screen making it difficult to see in or out. This makes it feel quite private and secluded. The trails wind around the property. Sunny found many downed trees that she enjoyed jumping over. We also practiced her recall and she had great fun racing back as soon as she heard, "Sunny, COME!" There is also a picnic table and a bench should you need to rest.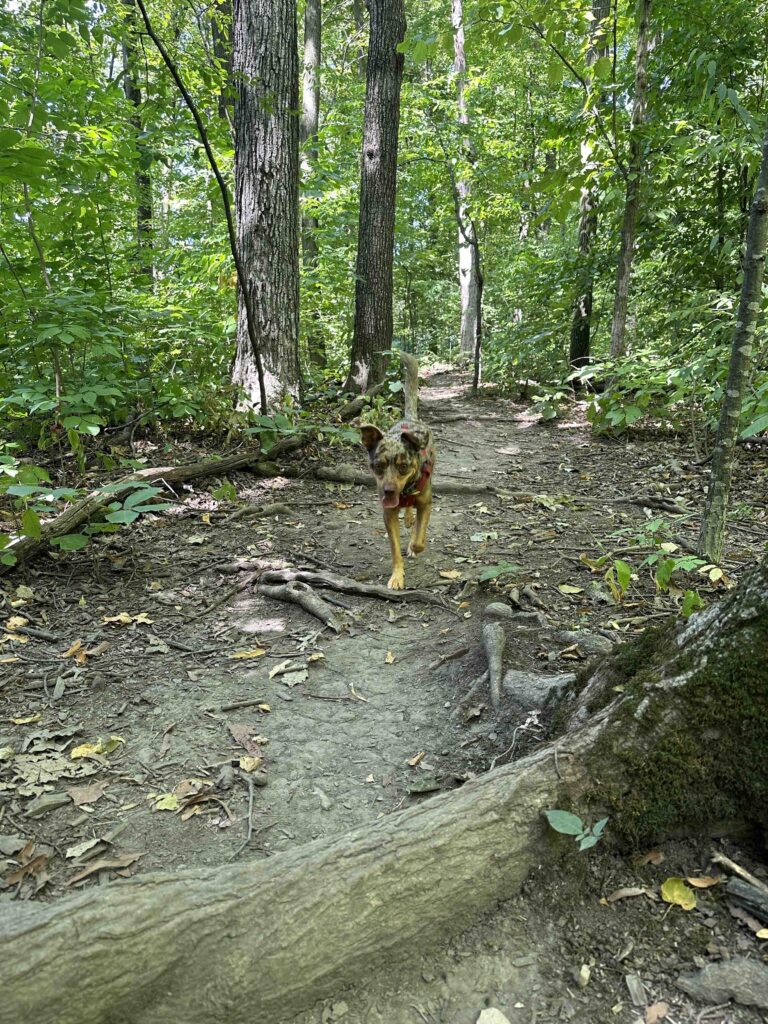 At first I thought an hour might not be long enough, but by the end of our time Sunny was pooped out. We gave ourselves about 5 minutes to get out of the fenced area and into our car so we would not be late leaving. We had a great visit and we will return. I know Sunny enjoyed herself because once we arrived home she climbed on her bed and took a long nap.
Our Rating
We rate Fido's Forest 4 out of 4 paws up. Although there is no water feature, the ability to let your dog off leash without worrying about other dogs more than makes up for it. The forest is large enough to give your dog plenty of space to roam, but not so large that you can get lost or lose your dog. The trails are well maintained and well marked, but there are also some trails that have been created by other dogs. There are so many interesting things for dogs to smell and lots of logs and trees for dogs to investigate and jump over. And probably the best part is it is set up so that if your dog is fearful/reactive to other people or dogs you can feel comfortable bringing them to the forest. We HIGHLY recommend a trip to the forest if you are anywhere near the Fort Wayne area.
How do I get there?
Take 69 toward Fort Wayne and exit at Dupont Road. Go west on Dupont Road for about 1.5M and then turn left onto Coldwater Road. After less than a mile, turn right onto E. Till Road. After 3 miles take the second exit to Till/Hugenard Road and continue another .6M and turn left on W. Wallen Road. Continue another half a mile and look for the Fido's Forest sign on the right at 4582 W. Wallen Road, Fort Wayne. Pull into the parking lot and enter the entry code at the gate to enter the forest. Remember to look for the sign that says "Welcome to the Forest" and not to enter if it says "Stop – Loose Dog In the Park".
For more information check out Fido's Forest website.