Another day, another Acres Land Trust adventure. Today we ventured to Leo to explore the Vandolah Nature Preserve. This land was the homestead of James and Rebecca Vandolah who moved to the area in 1837 and raised a large family. Four generations owned the land until great grandson (Charles) Byron Stellhorn donated it to the Acres Land Trust in 1989.
The entrance to the preserve leads you through a short wooded trail that opens onto a field with a mowed grass path. The field borders I-69 so you can't help hear and eventually see the cars passing by on this section of the trail. This was our least favorite section of the preserve. We can only imagine what James and Rebecca would think about all these cars passing their land daily.
Luckily the noise and view of I-69 recedes as you enter the woods and see the beauty that surrounds you. This is one of the nicer Acres Land Trust locations that we've visited. The trail winds around and down into the ravine. There are views of the trees, ravine, and even a pond, but you can't get to it. There were a couple closed trails, but we still managed to hike for 1.2M.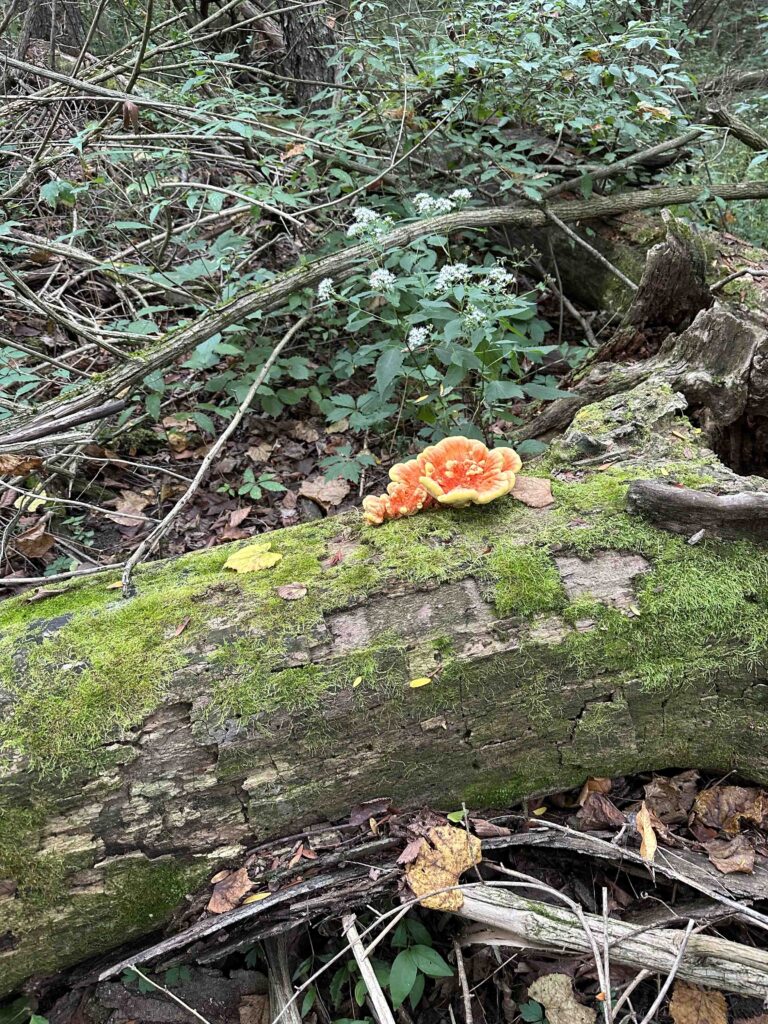 The trail is fairly narrow with quite a few inclines and descents. One of the inclines is quite steep and likely is the reason for the 4 out of 5 difficulty rating. There are several benches throughout to take a rest and Sunny enjoyed climbing up on those as well as some fallen trees.
Our Rating
We give Vandolah Nature Preserve 3 out of 4 paws up. It's a lovely spot for a hike and once you enter the woods after the grassy field entrance you forget about the highway. The downsides for us are no water feature that you can access, no restroom, and just over a mile trail. It's a nice hike with some challenges due to the inclines and descents so we enjoyed ourselves despite the downsides.
How do I get there?
From I-69 take exit 317 for Union Chapel Road. At the traffic circle take the first exit for Auburn Road. Follow for 3 miles and then continue onto Vandolah Road. After a short distance turn right onto Tother Road. The road ends at the parking lot for the preserve. Entrance to the preserve is on the right side.
For more information about Vandolah Nature Preserve check out the Acres Land Trust website.