We decided to take a close to home adventure and found a hidden gem in our own community. Today we ventured to the James P Covell Nature Preserve in Auburn, Indiana and we are glad we did. This preserves is another Acres Land Trust location. In 2014 Dr. Jack Covell donated the land to preserve his late brother's land for the animals that live there. We sure are happy that he did because it's a lovely place for a hike and to put your toes in the water.
The parking lot has two mowed grass entrances to the preserve. We took the one near the right side of the parking lot. After about .25M we found the entrance to the trail in the woods. The trail is fairly narrow packed dirt surrounded by trees and brush. It leads to Cedar Creek, which is the highlight of the preserve, at least for Sunny and me. There are a couple areas that lead down to the creek. The first one requires a bit of a descent so those who are a little less sure-footed should wait for the other access point. Sunny enjoyed getting down into the water and exploring.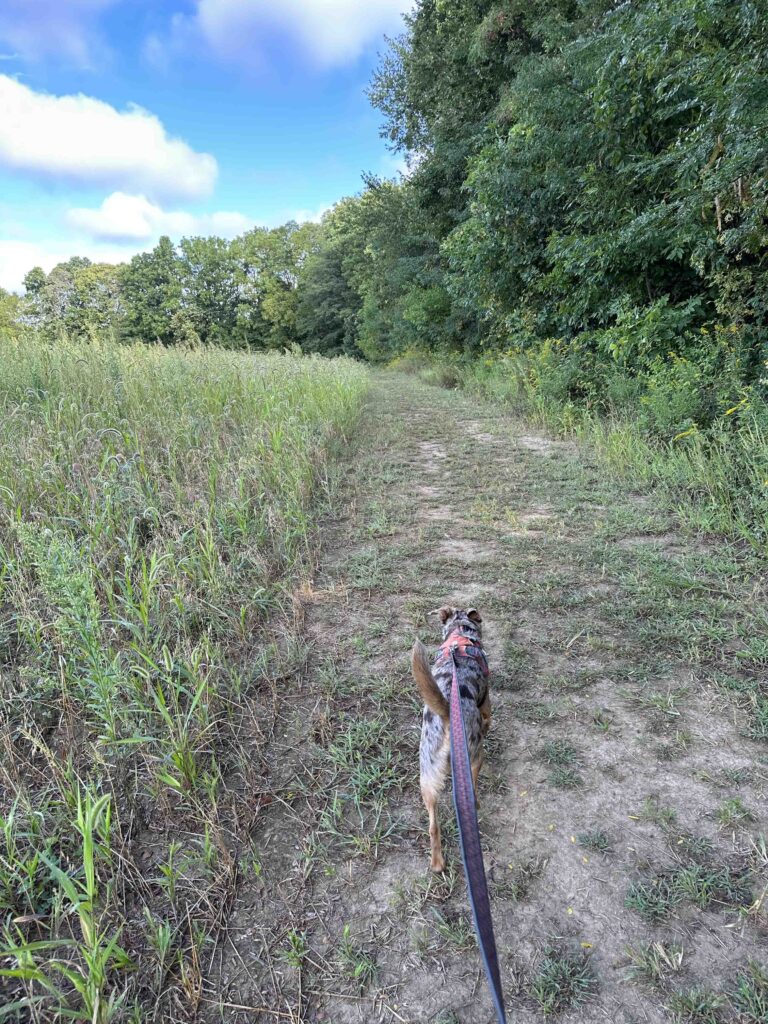 After romping around in the creek for quite awhile we climbed back to the trail and continued our hike. We found some interesting downed trees that Sunny enjoyed climbing on. All in all this was a fun adventure that we thoroughly enjoyed. The only thing that would have made it better is if the trail in the woods was a little longer. We walked a total of 1.03M, but that included time walking around the creek shoreline.
Our Rating
Sunny and I rate the James P Covell Nature Preserve a solid 3.5 out of 4 paws up. The only thing this location needs is a longer trail. There is no restroom, but since we live close by that's not a problem for us. There's a nice parking lot, the trail is well maintained, and you can get down to the creek in several areas. Sunny LOVED getting her toes wet. Karlie would have absolutely loved this adventure just as Sunny did.
How do I get there?
I almost hate to give directions since I would like this gem that is literally in my backyard to remain a secret, but since we encountered a couple people and dogs while we were there, I don't think it's much of a secret. From downtown Auburn take Main Street South until it ends at Ensley Avenue. Turn right and veer left onto Wayne Street. Follow Wayne Street for about 1.5M then turn left onto County Road 52. After about .3M the gravel parking lot is on the left. The sign for the preserve is at the back of the parking lot and the entrance to the preserve is via two mowed grass trails.
For more information check out the Acres Land Trust website.