Santa Margarita River Trail located in Fallbrook, CA is one of the most scenic and best places to go hiking in the San Diego area. There is a parking area that accommodates quite a few cars, but if you go on a weekend, go early as this trail gets quite busy. There are porta-potties at the start of the trail. The trail is dirt packed with some challenging stones to climb over at the beginning. After getting past this section it's a fairly easy hike. There are several areas where you can get down to the water which is fairly shallow. Some areas have rocks overlooking the water that you can sit on. You can hike for several miles as there are several trails off the main trail and there is plenty of shade.
Trips with Karlie
Karlie and I made our first trip in February 2020 and we fell in love. Despite this being one of our favorite places to hike, we only went three times since it was such a long drive from our home.
In July 2020 Karlie and I made another trip. She loved dipping her toes in any body of water. As the name of this park suggests it has a river running through it.
In November 2020 Art joined Karlie and I for our last family trip to Santa Margarita River Trail. As usual Karlie was all smiles. She loved being with us and on this trail.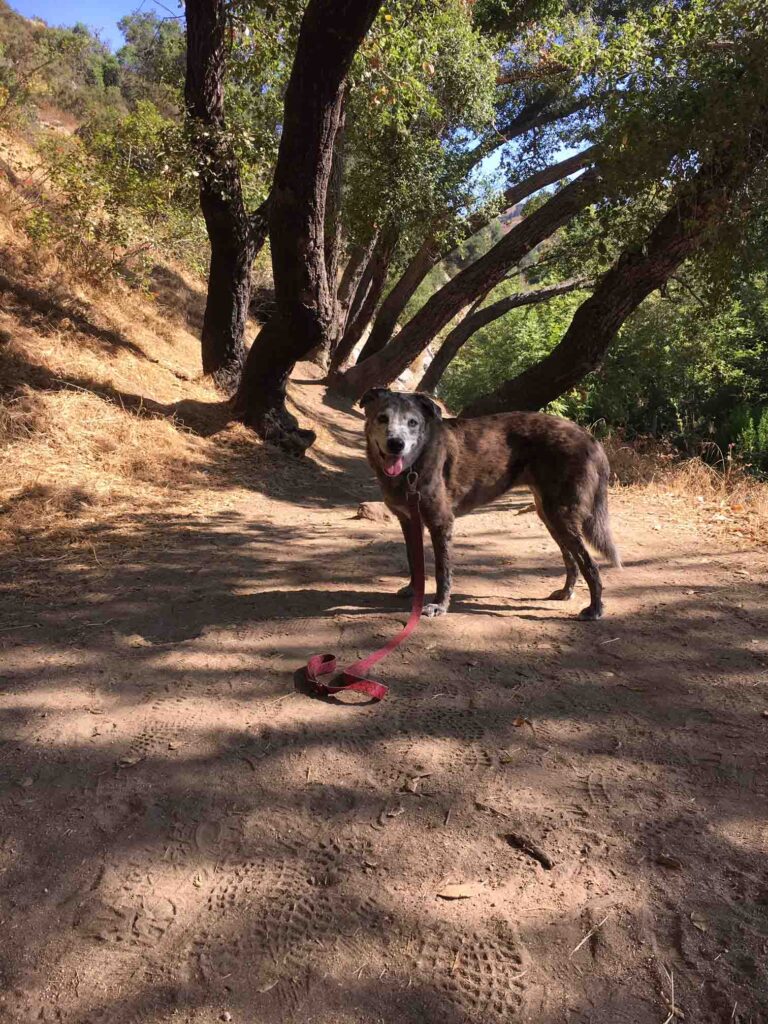 Our Last Trip to the Preserve
About six months before we said good bye to Karlie, I made a bucket list for her and one of the items was a return trip to Santa Margarita River Trail. Although she made it back to San Diego, she didn't make it back to this trail. I was waiting for her to be able to walk without her wheelchair, which she did. Sadly, before we could get back to the trail she started to decline and then got her wings. We decided one of the best ways to memorialize and celebrate her was to make a trip to Santa Margarita River Trail in honor of her. We brought her collar, visited all her favorite spots, and talked about her and our last visit to the trail. There were a lot of smiles and tears that day.
If you want to read more about each of our excursions and our rating of this park, check out our book Adventures with Karlie.
More Information
The Wildlands Conservancy – Santa Margarita River Trail Preserve