The sun came out on a beautiful fall day so we ventured to Albion to check out the Merry Lea Environmental Learning Center. It consists of peat bogs, wetlands, and wooded areas and provides environmental education to students. There are also trails throughout the property that are open to the public.
We parked at the Learning Center and started our hike by entering the woods near the entrance sign. The trails are dirt/grass in the woods and mowed grass in the fields. There are quite a few trails that intersect so it's easy to get turned around and lost despite the trail markers. We printed a copy of the map from the website which helped keep us from getting lost. We followed several different trails in the woods and had views of a gazebo, the bog, and the lake. We also walked through a mowed field near the lake.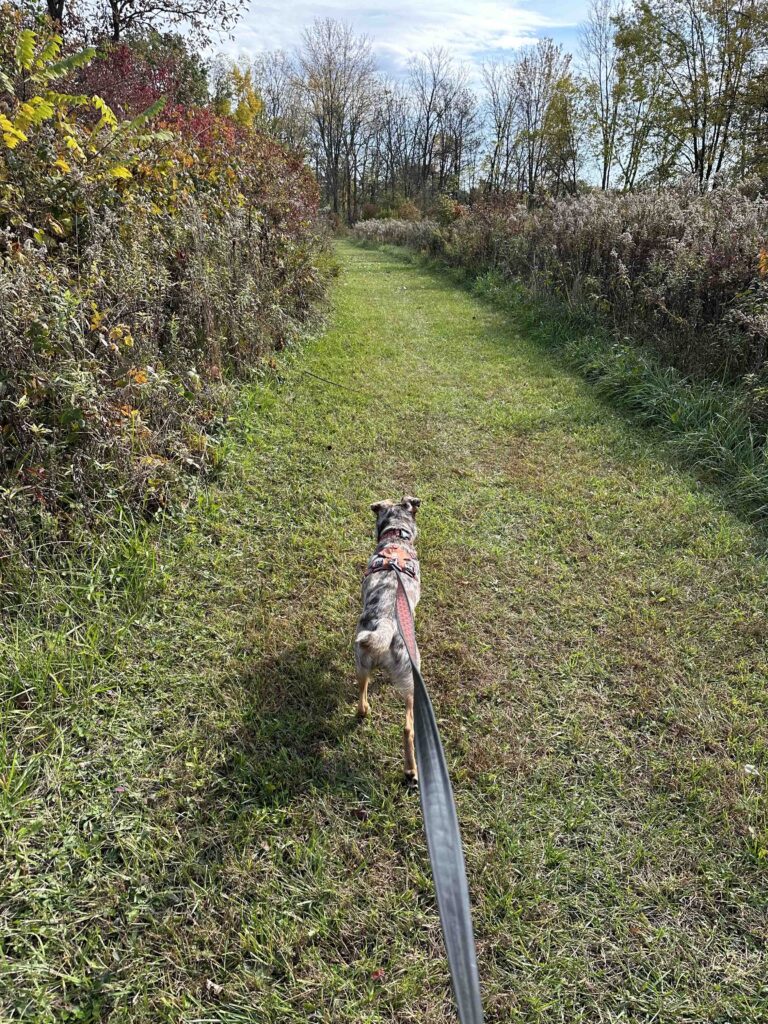 The Merry Lea Learning Center is a really interesting place and we enjoyed our hike. Most of our hike was through the woods, but we also hiked near the lake in a field. We had a peaceful hike and only encountered two other people. We found the trails to be flat and easy to maneuver. A few sections were a little muddy, but that likely was due to a recent rain. We walked 2.63M, but could have walked further as there are 6M of trails.
Our Rating
Sunny and I give Merry Lea Environmental Learning Center 3 out of 4 paws up. It's a peaceful walk in the woods with views of the lake. We loved that you can walk for several miles, but wished we could get down to the water. There is plenty of parking and a port-o-potty near the start of the hike.
How do I get There?
The address for the Merry Lea Environmental Learning Center is 2388 S 500 W in Albion, IN. Take IN-8 toward Albion then turn left on N 150 E. Follow for 2M and then it turns right and becomes E 100 N. Follow for 2.6M and turn left onto N Wolf Lake Road. Continue for 3.6M and turn right onto US-33/Lincolnway S. After .2M turn left onto IN-109 and continue 1.4M. Turn right onto W 275 S and continue for .6M, then turn right onto W 300 S. After .4M turn right onto S 500 W. After .3M turn right onto the gravel driveway near the sign. Follow the road to the parking lot.
For more information check out the Merry Lea Environmental Learning Center website.