A funny thing happened on the way to Laura Hare Nature Preserve today. I planned to take Sunny to the location in Nashville, Indiana and thought it odd when I put the location in my GPS and it came up with an hour to get there. Normally locations in and around Nashville take 30 – 40 minutes. I assumed since it was Friday afternoon that was the reason. I also thought the route my GPS was taking me was a bit odd, but again, I just went with it. It was a gorgeous fall day for a drive and we were looking forward to getting into the woods.
After driving on highways and main roads, the rest of the trip was on some twisty windy country roads. After about an hour we arrived at the Laura Hare Nature Preserve parking lot, which can hold about five cars. The preserve consists of 1.5 miles of trails through the woods. It was made possible from a donation from the Dr. Laura Hare Charitable Trust.
The trail is quite wide with a small lake visible for some of the hike, which reminded me of Amy Weingartener Branigin Peninsula. The trail is dirt and surrounded by trees with some inclines and descents, but nothing too steep or difficult. There are a couple areas where two trails come together, but there are arrows to keep you on track. This is an out and back trail so you get to enjoy the scenery twice; on the way out and back. We decided to check out one of the other trails and it had several trees across the path, but nothing that you can't climb over or under.
Once I arrived home and started to write about our trip, I discovered why it seemed to be such a long drive and in a different direction than anticipated. It's because there are two Laura Hare Nature Preserves. One is located in Traflagar, Indiana and one is in Nashville, Indiana. We went to the one in Trafalgar which is much further north! That will teach me to assume my GPS will pick the closet location or the one I want. Next time I will make sure I know the actual address instead of just searching. The bright point is we were able to explore a new area.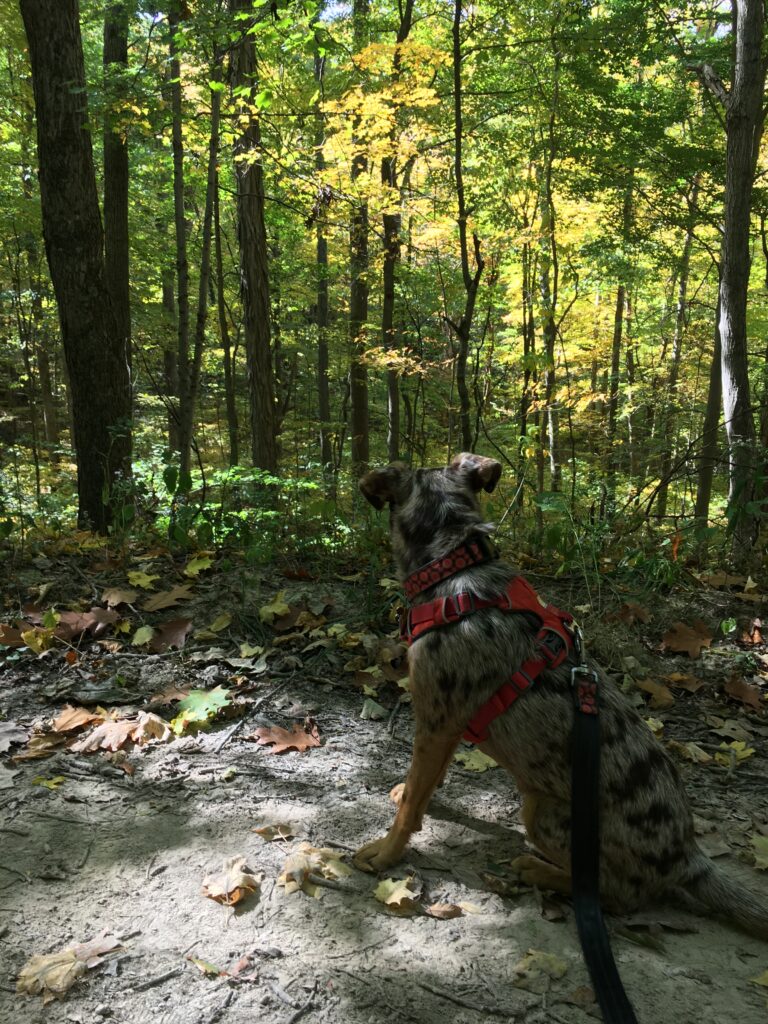 Our Rating
This preserve is truly beautiful and wonderful walk in the woods. Despite that, I'm not sure it's worth the one hour drive since we have so many equally beautiful places that are much closer. Sunny and I enjoyed our hike and decided that Karlie would have too since she loved Amy Weingartner Branigin Peninsula so much and this reminded us of that. We rate this trail 3 out of 4 paws up with the only negatives being the small parking lot, no restroom, and the more than an hour drive.
How do I get there?
Getting to the preserve involves driving on some country roads, but is quite gorgeous in the fall. From Trafalgar, Indiana take 300W and turn right on Roberts Road. After about a mile it turns into Hougham Road. The preserve is on the left, and it looks like you are driving into someone's driveway. Park in the lot, making sure not to block the gate. The trails start behind the gate.
For more information, check out the Central Indiana Land Trust website.