A friend recommended we visit Kokiwanee in Lagro, Indiana knowing we like to hike in the woods near water. She said we would love Kokiwanee and she was right! This spot did not disappoint and was well worth the over one-hour drive.
The preserve's land previously was mostly farm land and in 1945 the Girl Scouts, with help of the Kokomo Kiwanis, purchased it. The Girl Scouts operated a camp on the property from 1945 to 1996. There's even a facebook group for those who attended the camp. The Acres Land Trust now maintains the land and allows the public to hike in it.
After parking in the lot off E 50 S, you can enter near the gate or the opening in the woods. We opted for the opening in the woods. Upon entering we found ourselves in a wooded wonderland with a tall forest of trees and bluffs above the Salamonie River. There are several trails in the woods marked by blue paint on tree trunks. We followed one that mostly traversed the bluffs above the Salamonie River. We passed a covered picnic area, a small shed, downed trees, and eventually found ourselves above Kissing Falls. It was truly beautiful and since we had rain a few days prior the falls were active. The distance to the falls is about 1.6M and it is a bit of a challenging hike as there are some inclines and descents. The trail is relatively narrow and dirt, stone, or grass covered. There are other trails and waterfalls which we plan to investigate on future trips to this wonderful preserve.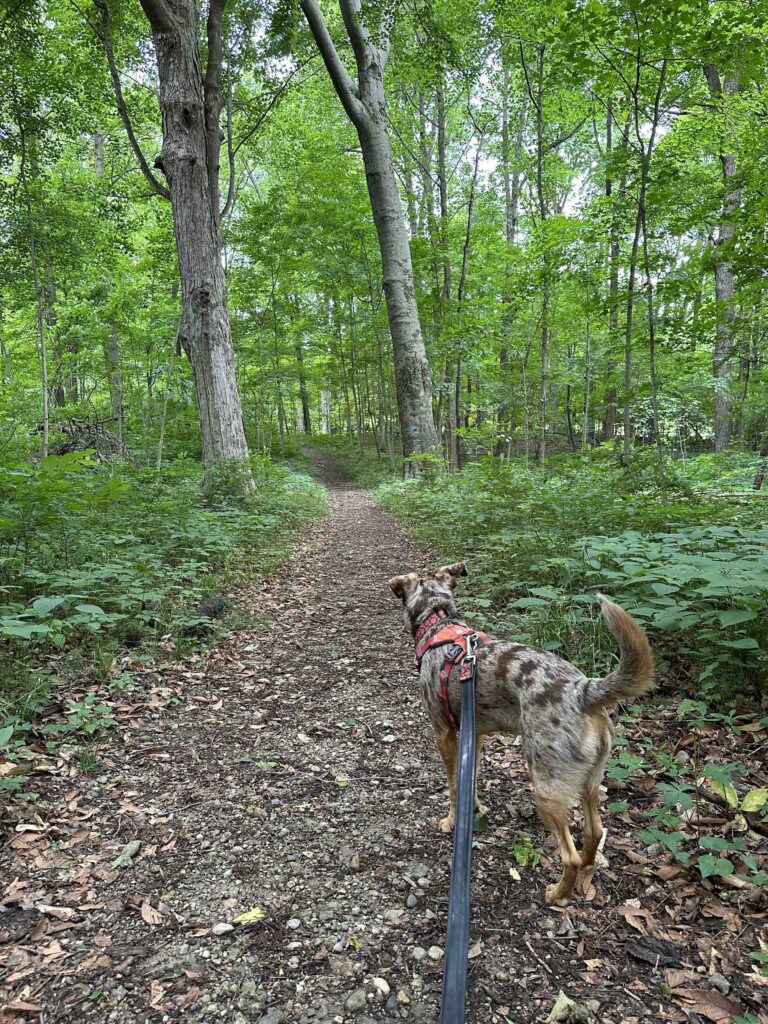 For more information visit the Acres Land Trust website.
Our Rating
We rate Kokiwanee 3.5 out of 4 paws up. The only reason for not giving it a full 4 paws up is there is no restroom and it is a little confusing with all of the different trails. Sunny loved not only the great smells and critters, but also getting her feet wet at the top of the waterfall. The trail is mostly shaded making this a great place to visit even on a warmer day. The trail can get muddy so proper footwear is a must. It is also not recommended for those with mobility or stability issues.
How do I get there?
From 69 take the Huntington exit and travel west on E 900 N and then take a left onto 24 West. Follow 24 through Huntington until it turns into 9 South. Follow that for several miles and then turn right onto W. Division Road. Follow that for 7.6 miles and then turn left on Stone Road. There is an Acres Land Trust sign for Kokiwanee at this intersection. Stay on Stone Road for about half a mile and then turn right onto E 50 S. Less than a quarter of a mile and you'll see the parking lot on the left.