Today would have been Karlie's 16th birthday and it's the second one without her. Instead of being sad that Karlie isn't here, I decided to celebrate her today with Sunny, Karlie celebration day. We did that by doing things that Karlie loved. Luckily they are also things that Sunny loves – hiking in the woods, lounging in the backyard, eating special treats, and getting a new toy. So today was a good day – we remembered and celebrated Karlie while having fun with Sunny.
After our normal morning walks I drove Sunny to Bicentennial Woods in Huntertown, IN. On the way I told her all about Karlie and what a special girl she was. We talked about her love of chasing tennis balls, kayaking, and hiking in the woods, how she kissed the back of my neck if Art and Anna got too far ahead of us when kayaking, how resilient she was, how her sister Anna loved and protected her, and what a great best friend she was. I told Sunny that all the adventures she goes on are courtesy of Karlie.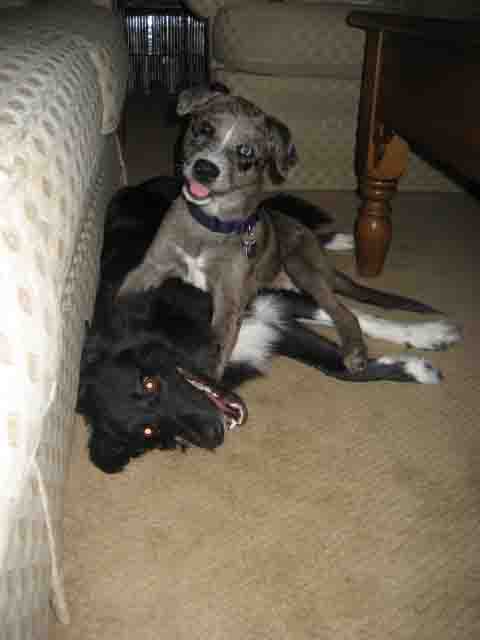 Hiking at Bicentennial Woods
We visited Bicentennial Woods because although Karlie never hiked there she would have loved it. She loved any trail in the woods, but especially those that had water and the ability to get her toes in it. Bicentennial Woods has that so I know she would approve of our pick of a spot to celebrate her. Sunny had great fun snooping everything and especially enjoyed getting her feet in the water. We spent nearly an hour hiking 1.5M in the woods and explored the water in several areas. Sunny loved it and we encountered a few other people who also were enjoying their time in the woods.
Lounging in the Backyard
After arriving home we spent time lounging in the backyard. Sunny monitored the yard for incoming birds, squirrels, and leaves. She had great fun running around, just like Karlie used to do. Karlie (and Anna too) and I spent a lot of time in our backyards in Texas and California. They would have loved our new yard here.
Treats and Toys
We ended the day and celebration with a tasty treat – "cake and ice cream" and a new toy. Every year on Anna and Karlie's birthdays we celebrated with a homemade birthday muffin and frosty paws. Today was no different and Sunny enjoyed her special treat just as Anna and Karlie did.
Snuggle Time
And the very end of our day was snuggle time on the bed. It was a big day for Sunny and she was ready to snuggle and take a nap. I hope she enjoyed the day and celebrating Karlie as much as I did. Although I love and enjoy Sunny very much, it's still hard not having Karlie here. She was a big part of my life for 14+ years. That's not something I can easily move past. But celebrating her and doing things she loved with Sunny helps heal the emptiness.
Happy Birthday, Karlie
Happy, happy 16th birthday, sweet little Bug. I miss you, but know you and Anna are celebrating your special day just as we did today. I love you and enjoyed our celebration day.
Resources
Want to read more about saying goodbye and handling loss? Check out our other saying goodbye blogs.