Another beautiful fall day means another adventure. This time we explored two parks in Elkhart, IN. The second stop was Cobus Creek County Park which consists of 84 acres of wetlands, prairie, woods and over two miles of trails. During our hike we found a creek, pond, and trails in both the woods and prairie. There is also a fishing pier, playground equipment, a sensory garden, and picnic shelter.
After parking the car we walked to the right and found the Prairie Loop trail which was a hard packed gravel trail through a prairie. After a short distance we found a trail sign and the Savanna Loop, a wooded trail. At the start this trail follows the road, although it is hidden from view. At this point it did not feel like a hike in the woods, but a path with trees on either side. Eventually it became more densely wooded and led us to the Cobus Creek, a cold-water trout stream that runs through the park. The best part for Sunny was finding a few areas where she was able to get down to the water and get her feet wet.
We continued following the creek and crossed a bridge to a trail that paralleled the creek. This then led us to the Cobus Pond Loop, which gave us views of the pond. We crossed a wood platform and found several overlooks, some with benches which made for a nice place to rest. Sunny enjoyed watching the ducks from this vantage point, but I'm not sure the ducks were as happy about this as she was.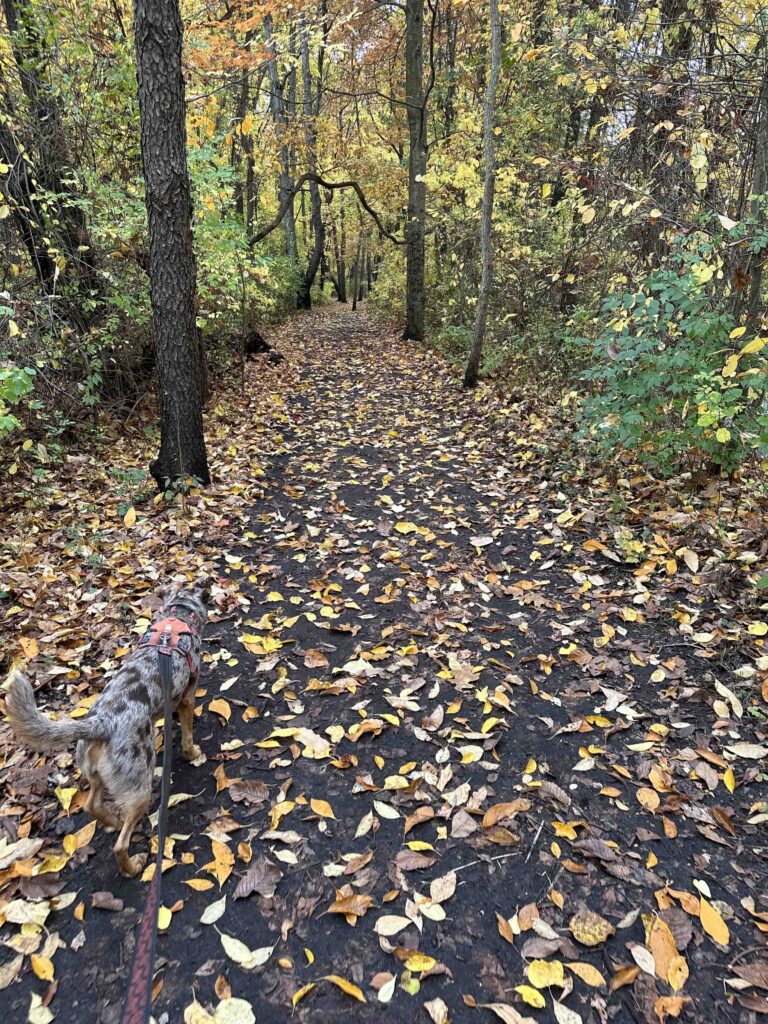 After completing the pond loop we found the Outer Loop and followed it to the fishing pier and then back to the shelter and parking lot. The total distance we walked was 1.74M.
The park has a variety of trails with some signs, but no informational signs like those found at Boot Lake Nature Preserve. If you follow the signs toward the shelter that will lead back to the parking lot. We downloaded a copy of the trail map before leaving home which helped us keep from getting lost.
Our Rating
Sunny and I give Cobus Creek County Park 4 out of 4 paws up. This park has something for everyone including the things we love – wooded trails, water with the ability to get down to it, and beautiful and interesting scenery. Ample parking and a restroom are added bonuses.
How do I Get There?
The address for Cobus Creek County Park is 30680 Count Road 8, Elkhart, IN.
Since the Nature Preserve is a bit off the beaten path, we recommend visiting it with Boot Lake Nature Preserve. To get there take I-69 and exit at I-80/I-90 which is the Indiana State Toll Road. Keep right onto I-90W and continue for 52M. Exit at #92 onto IN-19 toward Elkhart. Cost of the toll on the day of our adventure was $3.80. Turn right onto IN-19 and then right onto County Road 6. After nearly 3.5M turn left onto County Rd. 10. After .3M turn right onto County Road 1 and continue for 1M, then turn right onto County Rd. 8. After .6M turn left into the parking lot. There is a wood fence with a driveway leading to the parking area. Follow the road to the end where you will find the parking lot.
From Boot Lake Nature Preserve take a left onto County Road 3N. After nearly half a mile take a slight right onto Edwardsburg Road and then turn right onto County Road 4. Follow that for 1.2M then turn left onto County Rd. 1. Continue for .6M then turn left onto County Rd. 10. After half a mile turn right onto County Rd. 1. Continue for a mile then turn right onto County Rd. 8. The parking lot is .6M on the left.
For more information about Cobus Creek County Park check out the Elkhart County Parks website.