Our weather last week was hot, especially for early June in Northern Indiana, so I was looking for a place to hike that had shade. We ended up at Bicentennial Woods which we visited in April. It did not disappoint and despite the heat allowed for a nice, not too warm hike.
Bicentennial Woods is part of the Cedar Creek Corridor which is the largest forested area in the region. It is open daily until sunset, has a gravel parking lot that accommodates several cars, and no restroom. There was only one other person there on this visit.
We took the bridge over the creek and explored the other side. We found a nice, somewhat narrow trail, in the woods with vegetation on both sides. Sunny found many good things to explore and smell along the trail. We continued on the trail which followed the creek until there was an opportunity to get down to the creek. Sunny loved getting down to the water. After exploring for awhile we returned to the trail and found a downed tree which make for a great photo opportunity. There are many downed trees throughout Bicentennial Woods which are fun to explore.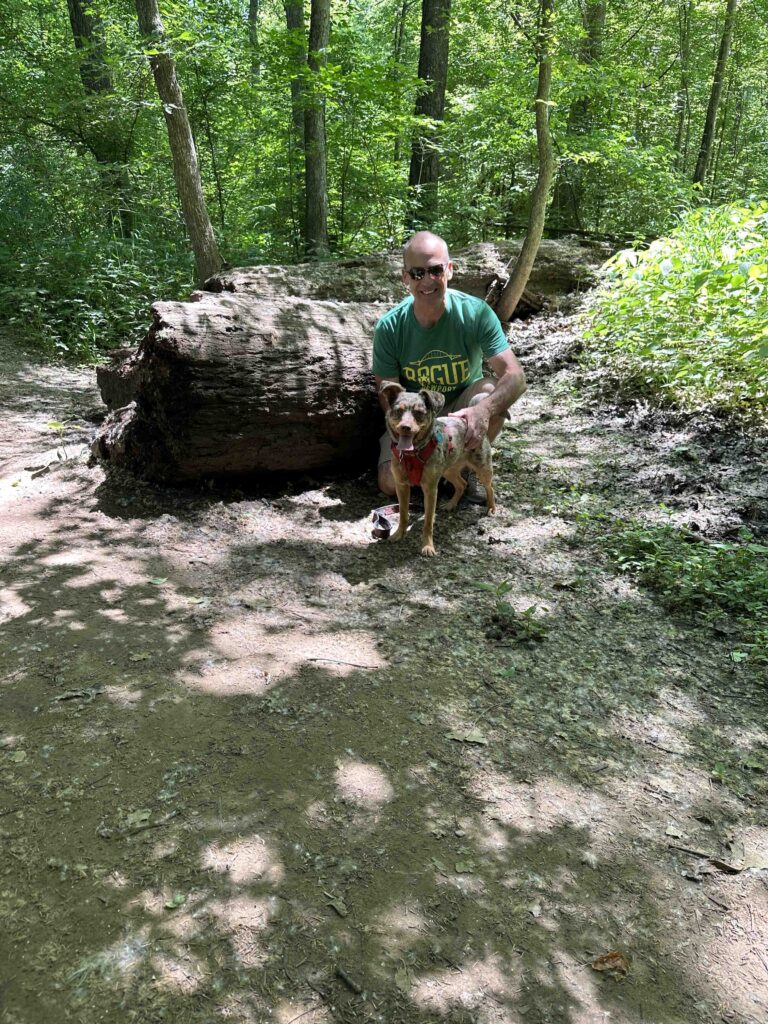 Despite temperatures in the mid 80's we managed to stay fairly cool on our hike. We brought plenty of water with us, but even for Sunny it was a comfortable place to hike. So far this is one of our favorite places in the area and I know we will return.
Our Rating
This section of Bicentennial Woods is just as nice as the area we explored in April. We rate Bicentennial Woods 3.5 out of 4 paws up. It's scenic, a fun trail through the woods, has access to the water, and great parking. Sunny enjoyed exploring the trail and the water and Karlie would have loved this trail too.
How do I get there?
Getting there is fairly straight forward. From Coldwater Rd. turn onto Schoaff Rd. About half a mile down the road, there is a sign on the left for Bicentennial Woods. It's a little hidden behind some vegetation, but leads to the gravel parking lot. The trail is just off the parking lot.
For more information check out the Acres Land Trust website and my post from our first visit.