Another sunny fall day and another adventure to explore a local park. Today's adventure was to Metea County Park near Leo/Cedarville. It's a 250 acre park with 5 miles of trails, picnic areas, a nature center, and Cedar Creek running through it. The park has two entrances; one off Union Chapel Road, which is where we entered, and one off Hursh Road.
We started our exploration walking through the grass trails across from the parking lot near Union Chapel Road. After walking around the grass trails we found an entrance to the woods. We found a nice wide trail in the woods that lead to Cedar Creek. We started by hiking the Muskrat Trail and then ended up on the Softshell Turtle Trail. Eventually we found another trail that led to the Nature Center. Trail markers kept us from getting lost since many of the trails intersect. From the Nature Center we walked in the grass along the road back to our car. Our total distance was just under 3M, but there were several other trails that we did not explore so you could hike even further.
All the trails were well maintained and fairly wide. It truly felt like a hike in the woods and was mostly shady. We found access to the creek in several areas. The first one was a steep staircase that I would only recommend for those who are fit and have good stability. The bank at that section of the creek was fairly small, but still allowed Sunny to get her toes wet. After checking out the creek we continued on the trail and found another section to get down to the water that had a larger bank.
We found benches along the creek in several areas giving a nice spot to rest and enjoy the view of the creek. The trail was mostly flat, but had some inclines and descents. We also walked over wood planks and a bridge on the Softshell Turtle Trail.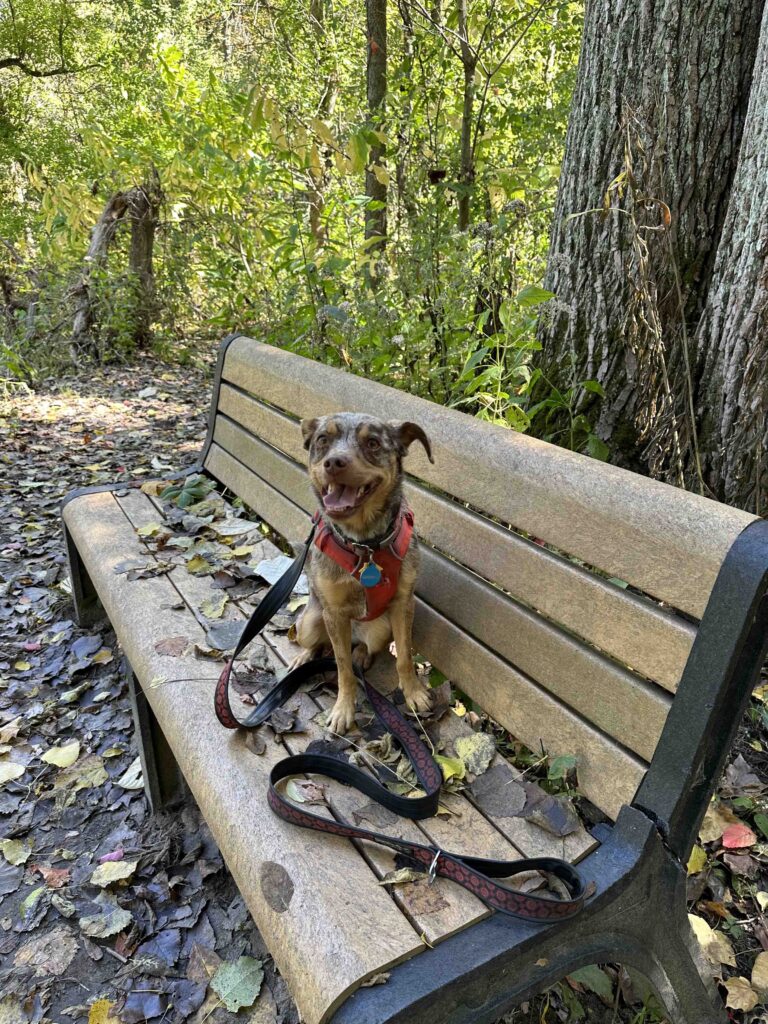 Our Rating
Sunny and I rate Metea County Park 3.5 out of 4 paws up. It's really a lovely place with a variety of trails that follow Cedar Creek. You can get down to the water which Sunny loved. We were able to walk nearly 3M and still had other trails to explore. There's great parking and a nature center with restrooms. There is an entrance fee, but that is not unusual for a park with this many trails and amenities.
How do I get there?
Metea County Park is located just outside of Leo/Cedarville off Leo Rd. The address is 8401 N. Chapel Union Road. Take I-69 and exit on Union Chapel Road toward Leo/Cedarville. Continue on Union Chapel Road for 11.5M. Turn left at the entrance sign and drive to the payment station. The cost is $2/person for those age 7 and older. Children under 7 are free. You can either park in the gravel lot to the right or continue driving up the road to the nature center and park there. The nature center has restrooms.
For more information check out the Allen County Parks website.