A beautiful fall day means a hike in the woods for Sunny and me. Today we ventured to Mengerson Nature Reserve in Fort Wayne, Indiana. This is another Acres Land Trust location. It was part of the Carl Mengerson family farm and donated in 1989. Today it is a forested oasis in the middle of a commercial and residential area. It can be accessed from the parking lot on Stellhorn Road as well as the residential areas off Christian Avenue and Leeds Lane and behind the stores in Northwood Plaza.
The entrance to the reserve starts after walking on a mowed grass path through a field between two homes. Upon entering the reserve you walk across some wood planks that lead to a dirt trail. Sunny's little paws nearly slipped into the space between some of the planks so this is something to consider for smaller dogs. Once over the wood planks we really felt like we entered the woods. The trail was twisty and windy, but was mostly flat.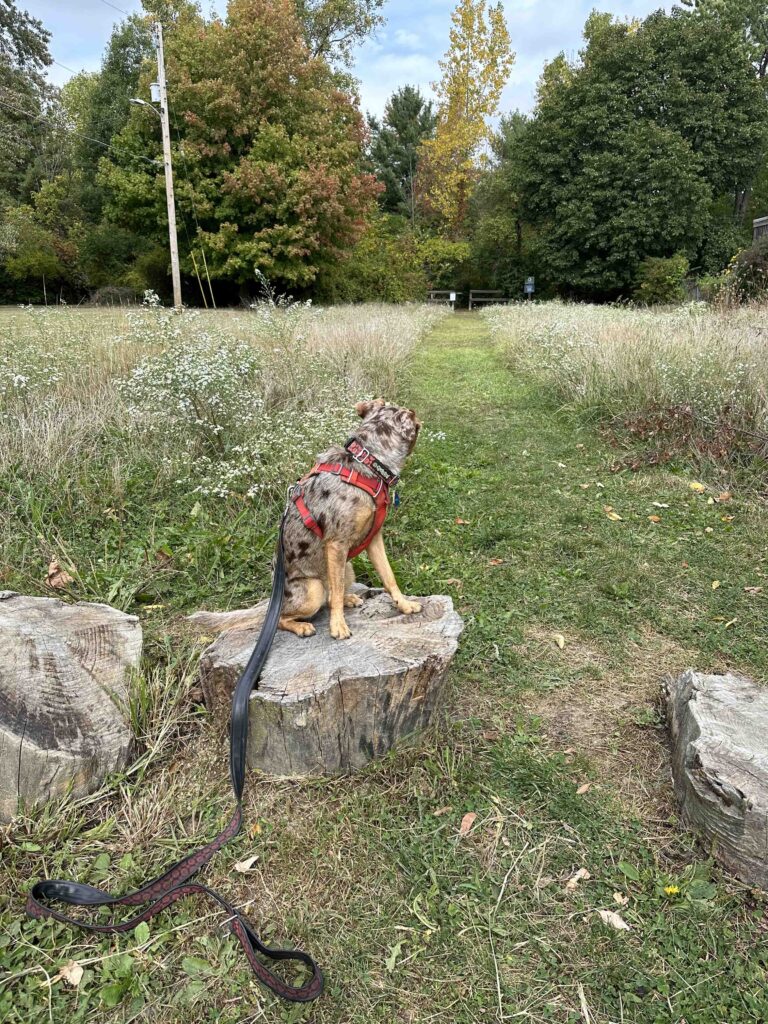 At one point we came to a fork in the trail and veered to the right. Our rule is that we always take the path to the right that way we never get lost. A little while later we took another trail to the right and this led to the back of Northwood Plaza. We turned around and continued on the trail which led to a bridge. Several more times we took the trail to the right. We walked over more wood planks, but these were positioned closer together so Sunny did not have any issues. We found quite a few fallen trees on the side of the trail which Sunny enjoyed exploring. Eventually we hopped over a fallen tree and came to the land of fallen trees and the end of the trail.
After exploring the land of fallen trees we turned around and headed back the way we came. We did not walk every trail, but we did walk many of them. The total distance was just under 1.5 miles. Although at the beginning of the hike we could hear road noise as we progressed it diminished. The leaves are just starting to turn and fall so it was a beautiful hike in the woods and one we will visit again.
Our Rating
Sunny and I rate Mengerson Nature Reserve 3 out of 4 paws up. It's a wonderful respite from the commercial and residential area that surrounds it. The trail is well maintained and is mostly flat, but does have a lot of roots making it more challenging for those with mobility issues. There are quite a few trails off the main trail. We walked nearly 1.5M and did not check out all the trails. There is parking, but it is limited to 3 vehicles. Although there are a couple bridges, there really isn't any water to put your toes in. All in all a pleasant place for a hike in the woods.
How do I get there?
Mengerson Nature Reserve is located at 5895 Stellhorn Road in Fort Wayne, Indiana. It is located off Maplecrest Road. You can get there from I-69 by taking exit #315 469E/30E. Continue on 469E/30E for about 2 miles and then take exit #29B to Maplecrest Road. Continue on MapleCrest Road for about 3 miles then turn right onto Stellhorn Road. The reserve is on the right about .3 miles from MapleCrest Road. There is a brown wood sign and a cement driveway that leads to a gravel parking lot.
For more information check out the Acres Land Trust website.