Our First Hiking Trip
Lake Murray is one of the first places we took Karlie hiking after saying goodbye to her big sister, Anna in May 2019. It was warm so we stopped several times in the shade to cool down and give Karlie a drink. We also ventured down to the lake so she could get her toes wet. She loved to do that. We had a nice first hiking adventure despite missing our sweet Anna. This is when I realized how much fun exploring new places with Karlie was and how much she enjoyed it. That started nearly 3 years of searching for new and interesting places to go hiking and exploring them together.
General Information About Lake Murray
Lake Murray is in Mission Trails Regional Park which consists of more than 8000 acres eight miles northeast of downtown Sa Diego. The Lake Murray entrance is off Kiowa Drive. The best way to find it is to use "Lake Murray Boat Rental and Concession" as the location. There is a big parking lot with restrooms and picnic tables near the water. The hiking "trail" is an asphalt road that is not open to vehicles. It winds around the lake and is used by walkers, runners, and cyclists. In some areas on the path you can get down to the water; one of Karlie's favorite things to do. Although there are trees around the lake, the path is mostly in the sun. It's better to do this hike in the spring and fall, especially when hiking with a dog.
For more information, check out the City of San Diego website – Murray Reservoir.
Our Last Hiking Trip
Our last trip to Lake Murray occurred in late January 2022, shortly before Karlie got her wings. On that day we started by watching the ducks and then walked on the path. It was a sunny, warm morning so after walking about a mile, we put the wheels on Karlie and headed back to the car. There were a lot of dogs, people, and bikes with many people mentioning Karlie's wheels. One lady asked us about the wheels and I told her how they helped. After talking to us she decided to get some for her 14.5 year old dog, Cooper. Just another time when Karlie helped other dogs with mobility issues.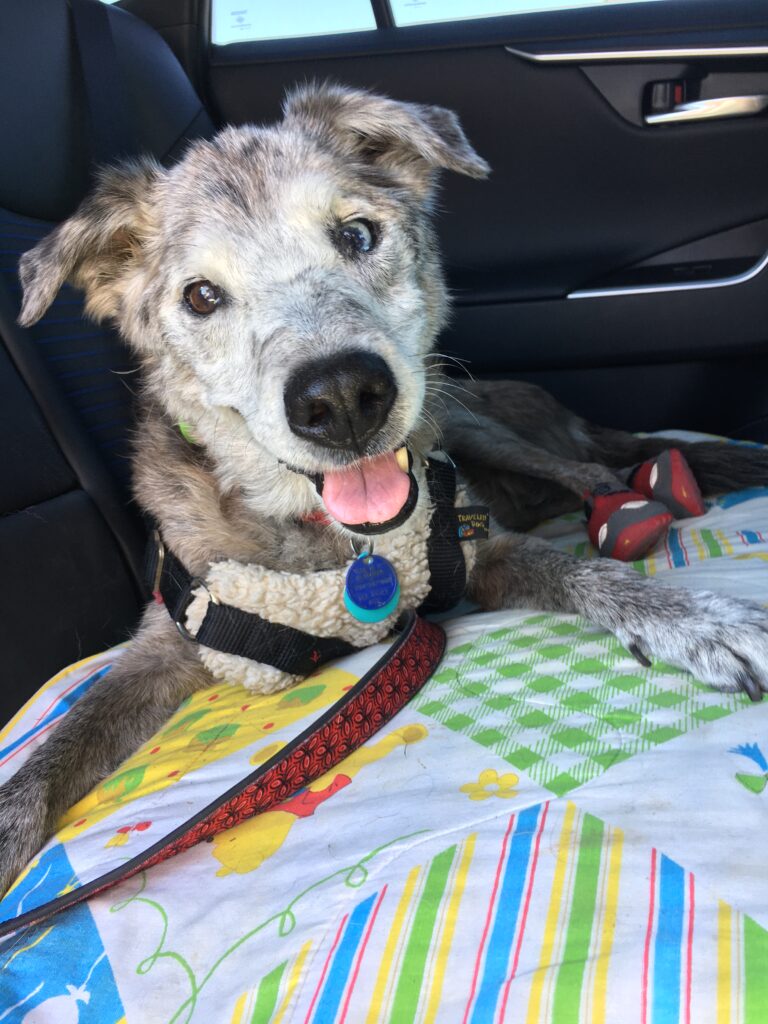 If you want to read more about each of our excursions and our rating of this park, check out our book Adventures with Karlie.